Thursday, March 26, 2015
Treatment for Sufferers of Plantar Fasciitis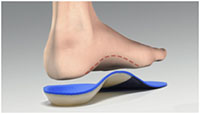 According to the Centers for Disease Control and Prevention, one million Americans are seen by doctors for symptoms of plantar fasciitis each year. Plantar fasciitis occurs when the ligament that runs from the heel bone to the base of the tones becomes inflamed; the inflammation is was usually causes the heel pain. Plantar fasciitis can occur through obesity, having too high or too low of an arch, and participation of activities where your foot or heel hits the ground repeatedly such as running. Some ways to reduce the stress placed on the ligament include: icing, taping the arch and bottom of the foot, stretching the lower extremities, wearing orthotics, and taking anti-inflammatories. If those methods do not do the trick, cortisone injections, shockwave therapy, and extracorporeal pulse activation therapy can also be used.
Plantar fasciitis can be very painful and inconvenient. If you are experiencing heel pain or symptoms of plantar fasciitis, visit Dr. Karin Johansson from New York. Our doctor can treat your heel pain as well as any other foot or ankle condition.

What is Plantar Fasciitis?
Plantar fasciitis is the inflammation of a the thick band of tissue that runs along the bottom of your foot, known as the plantar fascia, and causes mild to severe heel pain.
What Causes Plantar Fasciitis?
Excessive running
Non-supportive shoes
Overpronation
Repeated stretching and tearing of the plantar fascia
How Can It Be Treated
Conservative measures - anti-inflammatories, ice packs, stretching exercises, physical therapy, orthotic devices
Shockwave therapy - sound waves are sent to the affected area to facilitate healing and is usually used for chronic cases of plantar fasciitis
Surgery - usually only used as a last resort when all else fails. The plantar fascia can be surgically detached from the heel
While very treatable, plantar fasciitis is definitely not something that should be ignored. Especially in severe cases, speaking to your doctor right away is highly recommended to avoid complications and severe heel pain. Your podiatrist can work with you to provide the appropriate treatment options tailored to your condition.
If you have any questions, please feel free to contact our office located in New York, NY. We offer the newest diagnostic and treatment technologies for all your foot care needs.
Read more about Plantar Fasciitis
7:00 pm edt
Thursday, March 19, 2015
British Rugby Player left on the Bench after being unable to find Size 21 Shoes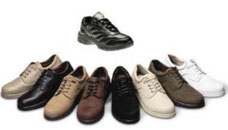 22-year-old Carl Griffiths of Britain is unable to play for his rugby club because he is unable to find a pair of boots that fit his size 21 feet. For the past 3 years, Griffiths played for Trimsaran rugby club with size 18 boots. His toes would curl up at the ends his shoes, which have finally fallen apart after being held together with black sticky tape. Griffiths has yet to find a sports club that makes size 21 boots, causing the player to seek out outside help to find boots in his size. "Not being able to play because of not having shoes is just aggravating," Griffiths stated. "At least when you have an injury, you know you just can't play for a while. But when I'm out just because of not having shoes that fit, it's just really frustrating."
Wearing the right shoe size is the first step one should take to ensure optimum foot health. Consult with Dr. Karin Johansson of New York. Our doctor will provide you with quality foot and ankle treatment.
Getting the Right Shoe Size
Sometimes it may be difficult finding the right shoe size especially because shoe sizes tend to vary depending on the brand and company you are looking for. A size 6 for one brand may be a size 7 in another. Although many people know their exact shoe size, it can range within 2 sizes depending on where they shop.
So it is important not to always go for a size 7 just because you think you might be a size 7 universally. It is best to try on the shoe and walk around for a bit to see how it fits and how it feels. Comfort is essential and the fitting has to be well otherwise it can lead to blisters, bruises at the back of the ankle and it can also hurt your toes if the shoe is too tight for example.
People walk a lot, so it is important for you to find what is comfortable when it is possible.
For more information about Getting the Right Shoe Size, follow the link below.
If you have any questions, please contact our office in New York, NY. We offer all the newest in diagnostic and treatment technologies for all your foot and ankle conditions.
8:14 am edt
Friday, March 13, 2015
Cold Feet can increase chance of catching Cold or Flu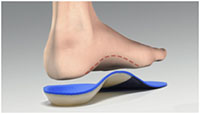 New research shows that having chilly feet increases the risk of catching a cold, flu, or other viruses. According to Dr. Ron Eccles, director of Cardiff University's Common Cold Centre, most people carry the bugs which cause colds and flu in their nose already without them showing the symptoms that make them ill. If the temperature of their feet drops, however, a change is initiated in the body that causes their nose to become cold, increasing the likelihood of the development of a full-blown cold. While children who are actively playing and joggers typically don't have cold feet because they are running, children who are often sitting stationary are at a higher risk of getting cold feet and catching a virus. "If you can't afford to catch a cold-for example if you've got an illness like bronchitis-you should keep your nose warm in winter, wear warm shoes and don't let your feet get wet," Dr. Eccles said.
Everyday foot care is important in maintaining overall health. For more information about everyday foot care, consult with Dr. Karin Johansson of New York. Our doctor will provide you with the foot- and ankle information you seek.
Every Day Foot Care
Often, people take care of their bodies, face and hair more so than they do for their feet. But the feet are a very important aspect of our bodies, and one that we should pay more attention to. After all, without our feet, we would not be able to perform most daily tasks. It is best to check your feet regularly to make sure there are no new bruises or cuts that you may not have noticed before, for example.
For dry feet, moisturizer can easily be a remedy and can be applied as often as necessary to the affected areas. Wearing shoes that fit well can also help you maintain good foot health, as well as making it easier to walk and do daily activities without the stress or pain of ill-fitting shoes, high heels, or even flip flops.
Also, wearing clean socks with closed shoes is important to ensure that sweat and bacteria do not accumulate within the shoe. Clean socks help to prevent athlete's foot, fungi problems, bad odors, and can absorb sweat.
If you have any questions, please feel free to contact our office, located in New York, NY. We offer the newest diagnostic and treatment technologies for all of your foot ankle injuries.
10:14 am edt
Friday, March 6, 2015
Simple Remedies for Cracked Heels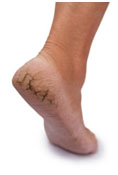 Cracked feet often occur due to not only improper foot care, but cold weather, shoes that don't fit well, or even standing for extended periods of time. If not properly treated, cracked heels can create discomfort and even bleeding. Fortunately cracked heels can be eased with the help of several simple remedies. As cracked feet are caused by dry skin, moisturizing is important. Castor oil and petroleum jelly are heavy moisturizers that can ease extremely cracked feet. Feet should also be properly dried every time they are wet. Drinking plenty of water will keep the body-and therefore the skin-properly hydrated, keeping skin from becoming dry. Ensure that the soaps you are using are mild soaps that are not harsh and over-dry the skin. Exfoliating the feet by gently scrubbing with a pumice stone can help remove dry skin.
Cracked heels can become painful if left untreated. To learn more, consult with Dr. Karin Johansson of New York. Our doctor will attend to all of your foot and ankle needs.
The Truth about Cracked Heels
Cracked Heels
Cracked heels are unappealing, and make it harder for you walk around in sandals. Not only may they look bad, but they can also tear stockings, socks, and wear out your shoes. There are several methods to help restore a cracked heel and prevent further damage.
How do you get them?
Dry skin is the number one culprit in creating cracked heels. Many athletes, walkers, joggers, and even swimmers suffer from cracked heels. Age and skin oil production play a role to getting cracked heels as well.
Promote Healing
Over the counter medicines can help, especially for those that need instant relief, or who suffer from chronic dry feet.
Wear Socks - wearing socks with medicated creams, helps lock in moisture so it can stay on longer.
Moisturizers - applying it both day and night will help alleviate dryness which causes cracking.
Pumice Stones - these remove dead skin, and then you can massage cream onto your foot. This way the cream will be absorbed. The skin needs to be exfoliated; therefore the outer layer dead skin needs removal.
For more information regarding cracked heels, follow the link below.
If you have any questions, please feel free to contact our office, located in New York, NY. We offer the newest diagnostic and treatment technologies for all of your foot ankle injuries.
1:44 pm est