Thursday, September 25, 2014
Vienna Native Wears Flip Flops while Mountain Climbing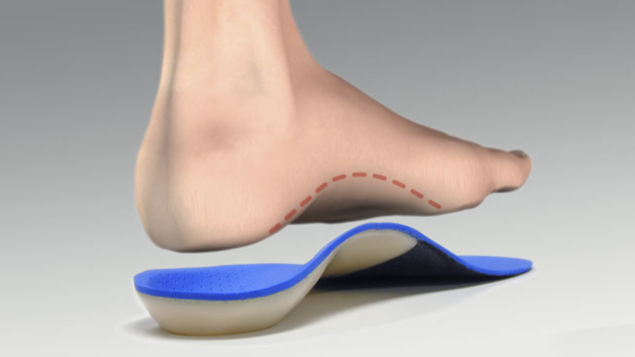 Maria Schneider
was rescued by helicopter after attempting to climb the Dobratsch Mountain in flop-flops. The twenty-three year old Vienna native was discovered without the proper Alpine gear as well as the correct attire for climbing the 7,109 foot-high mountain at such cool temperatures. The rescue team included a police helicopter, eight mountain rescuers, and an Alpine policeman. Had Schneider been wearing the correct footwear, and other mountain climbing essentials, this rescue would not have been necessary. The climber was airlifted off of the peak near Villach, Austria and remained uninjured.
When participating in activities such as hiking or mountain climbing, it is very important to wear the correct foot wear. Flip-flops do not have the right support or protection for the strenuous activity. For more information about flip-flops and their possible harmful extensive effects, speak to podiatrist Dr. Karin Johansson of New York. Dr. Johansson will assist you with all of your foot and ankle concerns and answer any of your related questions.
Flip-Flops and Feet
When the weather starts warming up, people enjoy wearing flip-flops. Flip-flops are comfortable, stylish, and easy to slip on and off, perfect for any summer beach goer. However, these shoes can cause harm to the feet.
How Can Flip-Flops Affect Me Long-Term?
Ankle problems
Hip problems
Lower back problems
Pain in the balls of the feet
Problems with foot arches
Changes in the way you walk
Are there injuries associated with flip-flops?
Yes. Since flip-flops are relatively weak and do not provide the same amount of support as sneakers, people who wear flip-flops are more susceptible to injuries. On top of that, the open nature of the shoe makes your feet more prone to other problems, such as cuts and even infections. Common injuries and ailments include:
Sprained ankles
Blisters
Infections
Cuts and Scrapes
I like wearing flip-flops, are there safe alternatives?
When buying flip-flops, try to find ones that have sturdy soles and are made of high quality materials that will support for your feet. These flip-flops will cost more, but will also last longer as a result.
For more information about Flip Flops, follow the link below.
If you have any questions, please contact our office located in New York, NY. We offer the newest diagnostic and treatment technologies for all your foot ankle injuries.
Read more about Flip Flops and Your Feet
4:42 pm edt
Wednesday, September 17, 2014
Plantar Warts in Woman's Heels Causes Pain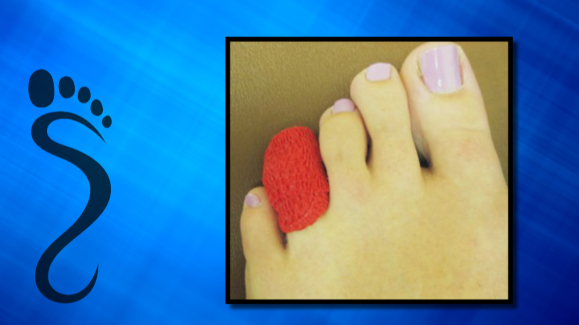 Kelly Bradford of the U.K went to a doctor a few months ago when a couple of hard lumps had formed on her heels. The texture made her think they were corns at first, but they hurt more than corns usually do and salicylic acids were not getting rid of them. The lumps caused her so much trouble that she was unable to even place her heels on the ground.
After her examination, the doctor concluded that Bradford had plantar warts growing in clusters on her heels. Most of the pain she was feeling was caused by the warts pinching the nerves on her feet. With the help of cryotherapy and topical over-the-counter medication Bradford's heels were much more comfortable in a few weeks.
Warts won't always be this painful, but they should be examined by a doctor if you are experiencing any pain. If you would like to have your plantar warts checked out, contact Podiatrist Dr. Karin Johansson of New York City if have any questions about your plantar warts. You can rely on Dr. Johansson to treat your feet with an unparalleled level of professional expertise.
About Plantar Warts

Plantar warts are found on the feet. These warts are caused by the human papillomavirus (HPV) getting into open wounds on the feet. You can recognize plantar warts by a hard bump on the foot. They are usually found on the heels or balls of the feet. Plantar warts are usually not a sign of anything dangerous but do not ignore them if they do cause pain or embarrassment.
If you do have a plantar wart, you may notice some pain when standing but since these warts are not cancerous or dangerous, a podiatrist only needs to be seen if there is excess pain. Although plantar warts don't often call for treatment, there are options available. They can be frozen off, removed by an electric tool or burned off using laser treatment.
Home remedies are also available to help with plantar warts. An apple cider vinegar soak can help remove the wart. You can soak your feet in the vinegar for 20 minutes before using a pumice stone to remove any loose skin from the wart.
For more information about Plantar Warts, follow the link below.
If you have any questions, feel free to contact our office in New York, NY. We offer all the latest in diagnostic and treatment technologies to meet your needs.
Read more about
Plantar Warts
9:40 am edt
Wednesday, September 10, 2014
Study Suggest Barefoot Running Not the Best Thing for Runners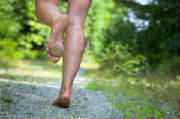 A study which was conducted by University of Colorado doctoral student Jason Franz that found that barefoot running may not be as beneficial as first believed. In the University's Locomotion Lab, the study found that people run more efficiently wearing shoes than going barefoot.
The experiments conducted by CU researchers observed runners' oxygen intake and carbon dioxide exhalation while running on a treadmill. The volunteers ran with both a lightweight running shoe and completely barefoot (but with equivalent weight to the shoe attached to the foot).
The results speak for themselves as the body requires about three to four percent more energy exertion whilst running barefoot. Franz speculates that the adjustments you make to cushion the impacts while running may require more metabolic energy from the body.
Barefoot running can be a difficult transition from traditional running. If you would like more guidance and more information, talk to Dr. Karin Johansson, DPM of New York. Dr. Johansson can help you through questions or concerns on minimalist running styles.
Barefoot RunningThe Impact of Barefoot Running
-Running without shoes changes the motion of your running, as most running is done by landing on the heel of the feet.
-Running barefoot requires a different way of running; the landing is done on the front part of the feet.
The Advantages of Barefoot Running
-When running and landing on the front feet, the impact on the feet and ankle is reduced, this can reduce stress injuries.
-It strengthens muscles in the feet and ankles and the lower legs.
-Balance of the body is improved and there is a greater sensory input from the feet to the rest of the body.
The Drawbacks of Barefoot Running
-No protection while running, makes it likely that runners will land on sharp objects and scrapes, bruises and cuts on the feet will result.
-Blisters may form.
-Possibility of plantar fascia problems.
-Risk of getting Achilles tendonitis.
So what can runners do to make barefoot running safe? It's best to make a slow transition from running shoes to barefoot running. Once the feet begin to adjust, try walking, then jogging and gradually increasing the distance. Minimalist running shoes may also be an option.
If you have any questions, please contact our office located in New York, NY. We offer the newest diagnostic and treatment technologies for all your foot care needs.
Read more on
Barefoot Running
6:21 pm edt
Monday, September 8, 2014
Organization Amends Contract Due to Patient Volume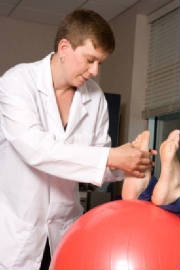 The Staffordshire and Stoke-on Trent Partnership (SSoTP), which is tasked with referring National Health Service patients with foot problems to podiatrists and chiropodists, were originally supposed to make appointments for 95% of newly referred patients within 3 weeks. However, they failed to meet their quota last month due to a large influx of people with foot conditions, so now their contract with the NHS has been redone with new stipulations.
Under this new contract, the SSoTP is responsible for ensuring doctor visits within two days to 90% of people with pressing foot issues. Unfortunately, patients who have problems that need regular care but aren't as severe may experience delays of up to six weeks before getting appointments.
Since the United States doesn't have a National Health Service, people with foot problems are expected to choose a podiatrist on their own. For professional care for any kind of foot or ankle problem, consider seeing podiatrist Dr. Karin Johansson, DPM of New York. Dr. Johansson will provide you with comprehensive and effective care for your foot condition.
Choosing a Podiatrist

It is important to find a good podiatrist when it comes to healing your foot concerns and pain. A good podiatrist should know how to identify your condition and should suggest the necessary treatments that can be done so that you can get back to good health.

Choosing a podiatrist is a relatively easy task that can be done through an online search engine, word of mouth via a friend, directory listings, yellow book, advertisements, newspaper ads, etc. It is up to you to choose the one that you feel is the closest to your location, is experienced and has a good reputation in the field.
It is best to find one that cares about your health overall and is open and happy to help you alleviate any pain you might be experiencing. Another thing to consider may be the costs of a podiatrist, what insurance carrier you have and also if they specialize in anything specific.

Visit your podiatrist at the first signs of pain, discomfort, or injuries and if you notice any unexplainable pain in the feet.
If you have any questions, please contact our office located in New York, NY. We offer the newest diagnostic and treatment technologies for all your foot care needs.
Read more about Choosing a Podiatrist
8:54 am edt
MLB Player Needs Surgery for Sesamoiditis in Both Feet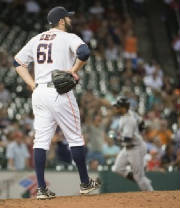 Josh Zeid of the Houston Astros is scheduled to have sesamoidectomies on each of his feet soon to correct his injured sesamoid bones. His right foot will be the first to be operated on, followed by his left foot six weeks later. Unfortunately this means the Astros will have to play the rest of the season without him.
During the 23 games Zeid pitched in this year, he gave up 18 runs and had a 6.97 ERA. If all goes well with his surgery he'll be able to play again during spring training next February.
Sesamoiditis is a very painful foot problem, but luckily it can usually be fixed with surgery. If your feet hurt and you suspect it could be sesamoiditis, don't hesitate to see Dr. Karin Johansson, DPM of New York. Dr. Johansson can accurately diagnose your injury and get you the professional care you need.
Sesamoiditis

Sesamoiditis is a condition of the foot that affects the ball of the foot. It is more common in younger people than it is in older people. It can also occur with people who have begun a new exercise program, since their bodies are adjusting to the new physical regimen. Pain may also be caused by the inflammation of tendons surrounding the bones. It is important to seek treatment in its early stages because if you ignore the pain, this condition can lead to more serious problems such as severe irritation and bone fractures.
Causes of Sesamoiditis
Sudden increase in activity
Increase in physically strenuous movement without a proper warm up or build up
Foot structure: those who have smaller, bonier feet or those with a high arch may be more susceptible
Treatment for sesamoiditis is non-invasive and simple. Doctors may recommend a strict rest period where the patient forgoes most physical activity. This will help give the patient time to heal their feet through limited activity. For serious cases, it is best to speak with your doctor to determine a treatment option that will help your specific needs.
For more information about Sesamoiditis, follow the link below.
If you have any questions, please contact our office located in New York, NY. We offer the newest diagnostic and treatment technologies for all your foot care needs.
Read more about Sesamoiditis
8:52 am edt
Herb Might Be Able to Treat Rheumatoid Arthritis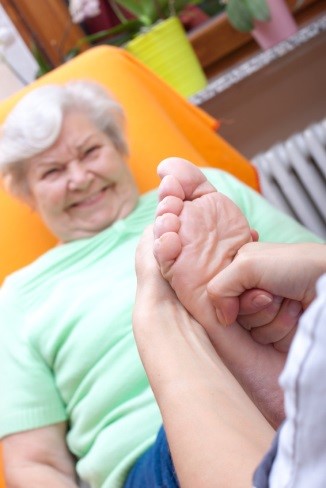 A recent study suggests that an herb that has been used in traditional Chinese medicine for more than 400 years may treat Rheumatoid Arthritis more efficiently than commonly proscribed pharmaceutical drugs. Rheumatoid arthritis is a chronic and often painful autoimmune disease that stiffens joints and restricts movement. There is no cure, but anti-inflammatory drugs are proscribed to manage pain and slow joint damage.

Each group was assessed after six months to see how many participants achieved a fifty percent improvement in pain and joint stiffness. Of the patients proscribed methotrexate, forty-six percent achieved that improvement level. This was significantly lower than the fifty-five percent of those given just the herb, and seventy-seven percent of those treated with both medications.
Rheumatoid Arthritis can make everyday living difficult. If you are contending with pain in your foot or ankle as a result of arthritis, see Dr. Karin Johansson, DPM of New York. Dr. Johansson will address your foot and ankle pain.

What Is Rheumatoid Arthritis?
Rheumatoid Arthritis (RA) is an autoimmune disorder in which the body's own immune system attacks the membranes surrounding the joints. Inflammation of the lining and eventually the destruction of the joint's cartilage and bone occur, causing severe pain and immobility.

Rheumatoid Arthritis of the Feet

Although RA usually attacks multiple bones and joints throughout the entire body, almost 90 percent of cases result in pain in the foot or ankle area.

Symptoms
- Swelling & pain in the feet
- Stiffness in the feet
- Pain on the ball or sole of feet
- Joint shift and deformation
Diagnosis
Quick diagnosis of RA in the feet is important so that the podiatrist can treat the area effectively. Your doctor will ask you about your medical history, occupation, and lifestyle to determine the origin of the condition. Rheumatoid Factor tests help to determine if someone is affected by the disease.
For more information about rheumatoid arthritis please follow the link below.
If you have any questions, please contact our office located in New York, NY. We offer the newest diagnostic and treatment technologies for all your foot care needs.
Read more on Rheumatoid Arthritis
8:49 am edt
Beckerman Needs Orthotics for Foot Injury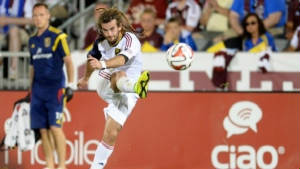 Kyle Beckerman
of the Real Salt Lake soccer team has a minor foot injury and won't be able to participate in the upcoming Major League Soccer All-Star Game. Jeff Cessar, RSL's coach, says that he's been fitted for
foot orthotics
to help correct the problem.
Beckerman did a light workout with the team at their last practice but didn't take part in any of the drills. Apparently his foot injury really became a problem after he came back from playing for team USA in the World Cup. "We have to be really mindful of Kyle's body, especially going all the way back to Brazil," Cessar said. "So we have to rest him as much as we possibly can. But his feet are really messed up."
Foot orthotics are often a viable option for people recovering from injuries to their lower extremities. If you have hurt your feet or ankles, think about seeing podiatrist Dr. Karin Johansson, DPM of New York. Dr. Johansson will assess your condition and help you decide if orthotics would be right for you.
What are Ankle Foot Orthotics?

Orthotics are physical aids used to support weak limbs or direct the proper function of limbs. Often they are used to support the ankle and foot. Such orthotics are known as AFOs. AFOs help strengthen the muscles or train them to function in the proper position. AFOs can also benefit muscles that need to be lengthened or loosened.
Why might you need orthotics?

Orthotics are often prescribed when someone is suffering from diseases that affect the musculature, like polio and multiple sclerosis. However, more common conditions like arthritis and stroke, or those that "toe in", may also require orthotics.
Modern orthotics have improved dramatically from the metal braces of previous years. Many of today's orthotics are made of lightweight plastics and other advanced materials to provide new levels of comfort and support. Often the orthosis is designed in a rigid L shape that is contoured to the calf and flesh colored.
For more information about Ankle Foot Orthotics, follow the link below.
If you have any questions, please contact our office located in New York, NY. We offer the newest diagnostic and treatment technologies for all your foot care needs.
Read more about Ankle Foot Orthotics
8:47 am edt